Company Profile
In 1971, when Susie and Doug Tompkins met Michael Ying (who later became a director and shareholder of Esprit), Esprit Far East Group was established. The company changed its name to ESPRITdeCorp. At that time, there were 7 product series, each of which had its own independent name and did not use the ESPRIT unified logo. In 1978, the turnover reached 100 million U.S. dollars, and an international cooperative relationship was formed in Hong Kong and Germany. In 1979, John Casado designed the famous Esprit logo, with three parallel horizontal lines in the "E" letter as the main stem, creating the "ESPRIT" font logo. Since its establishment, the logo has always been regarded as one of the most unique and impressive trademarks in the world, making ESPRIT one of the most well-known brands in the international fashion industry. In 1986, the first store Esprit opened in Cologne, Germany. This store is designed by EttoreSottsass, and it has a typical Memphis style founded by Sottsass. In 1987, Susie and Doug Tompkins called on citizens to correctly face the growing AIDS. In the same year, the company expanded to Taiwan, the Netherlands, Belgium and Denmark. In 1989, Japanese art publisher Robundo published "Esprit, Principles of Integrated Design". At this time, Esprit has begun to launch in France, Norway and the United Kingdom. However, Susie and Doug Tompkins divorced. A year later, SusieTompkins and an investment group acquired the ex-husband's business shares in the United States. DougTompkins continues to hold shares in the global business. In 1992, "How do you change the world?" The movement was famous all over the world. In 1993, ESPRIT Asia Holdings Limited was listed on the Hong Kong Stock Exchange as Asia Esprit Global Holdings Limited. In 1994, the Esprit apparel business department, footwear and accessories merged to form the Esprit wholesale department, and Andrew Cohen became the head of this new unit. As for Esprit Far East Co., Ltd. and EspritdeCorp, GmbH announced that they will merge to better improve design, develop sales and procurement. Esprit Far East Co., Ltd. became a European subsidiary based in Hong Kong. In 1995, Esprit's design concept was applied to new products: glasses, clocks, bed and bathroom products, knitwear. HeinzKrogner took over Esprit's European operations, with sales reaching 350 million U.S. dollars. In 1996, Esprit had branches in 44 countries. An authoritative market survey conducted in the United States in the same year showed that ESPRIT ranked 28th among the top 100 consumer brands in the world. Jay Margolis, former chairman and chief executive officer of Tommy Hilfiger and LizClaiborne, became chairman and chief executive officer of EspritdeCorp based in San Francisco. Susie and Doug Tompkins severed their relationship. They agreed to sell their shares in the global sporting goods company to their Hong Kong partner Michael Ying. Espritde Corp. of the United States agreed to adjust its debt, and then Oaktree Capital Management and Cerberus Partners became the new controlling shareholders. In 1997, the US Department of Labor included EspritdeCorp on the Trendsetter list. These companies are regarded as typical regular companies and will not purchase inferior materials. EspritdeCorp. approved BeachPatrol Inc. to produce the first complete swimwear series, which will also include some beach sportswear. In 1998, Esprit launched an online store to replace the original website. In 1999 Joseph E. Heid, the former chairman of Revlon International, was appointed President and CEO of EspritdeCorp, succeeding Jay Margolis, because his contract expired in January 2000. In 2000, Esprit Global Holdings Limited became a constituent stock of the MorganStanley Hong Kong Index. At the dawn of the new millennium, Esprit asked the question: "How fast can we develop?" Then began to introduce sportswear, baby clothing and toys. In 2001, global brand awareness increased, especially in Germany, which set the company's record with a market share of 84%. After a three-year interruption, Esprit Universal Holdings Limited re-entered the UK market and at the same time opened its first flagship store in Regent Street, London. In 2002, through the purchase of American trademarks and remaining Esprit International shares, Esprit Global Holdings Co., Ltd. unified the global Esprit brand, regaining unified control of the brand after the 1970s. At the global business headquarters in 2004, Esprit commemorated its partner Ettore Sottsass through an exhibition. Their cooperative relationship started in 1982. His design and architecture are integrated into Esprit stores and showrooms around the world. EttoreSottsass has made a great contribution to the development of the brand. In 2006, Esprit brand sales have spread to more than 40 countries on 5 continents, 640 independent stores and more than 12,000 wholesale customers. There are 12 series every year, more than 20,000 product designs, including women's, men's, and children's. There are also many licensed products. In 2007 Esprit launched de.corp. More fashionable and progressive than its "big sister". Ladies Esprit casual wear, this new Esprit department, designs a clean, youthful urban style for women from 18 to 25 years old. This is the first set of clothing launched by de.corp, Esprit urban casual wear, showing the inspired look of the post-80s generation. MTVNetworks and Esprit's EDC announced that they will cooperate extensively. The EDC brand will sponsor Europe's largest music event-MTV Europe Music Awards. In 2008, Esprit celebrated its 40th anniversary with a series of celebrations involving all departments and authorized partners.
Brand Series
In 1992, when Esprit first entered the huge market of China, it only set up a store on Huaihai Road, Shanghai, and Shanghai became the company's China headquarters. Esprit has approximately 600 stores in 102 cities in China. Subsequently, Esprit gradually entered the e-commerce industry, cooperating with large shopping websites such as Vancl Eslite, 9th Avenue and JD Mall. Shen Wenfeng, the head of Esprit China, is a native of Shanghai. He graduated from Shanghai Jiaotong University, majoring in electronics and management. He began to work at Wangan Computer Company and then joined Esprit. On the one hand, Shen Wenfeng felt that the company he had previously served had a "ceiling" blocking his own development. On the other hand, "Esprit's relaxed culture attracted me to this company." The first challenge the company faced was its The cost of (commodity) is a global level cost, but the income of Chinese consumers is not a global level (income)." In China, Esprit is also an expensive brand anyway. One of Esprit's strengths lies in its culture, many The Chinese still believe that Western culture and American culture are advanced cultures. Another advantage of Esprit is the good quality of the products. The materials of the products meet Western standards, but the price is a disadvantage. "We therefore decided to pay more attention to the brand. The added value of the company includes enhanced services and enhanced visual display, increasing the attractiveness of consumers' eyeballs. edc women's jeans series:
FOUR: straight, low waist, non-elastic fabric, micro-boot pants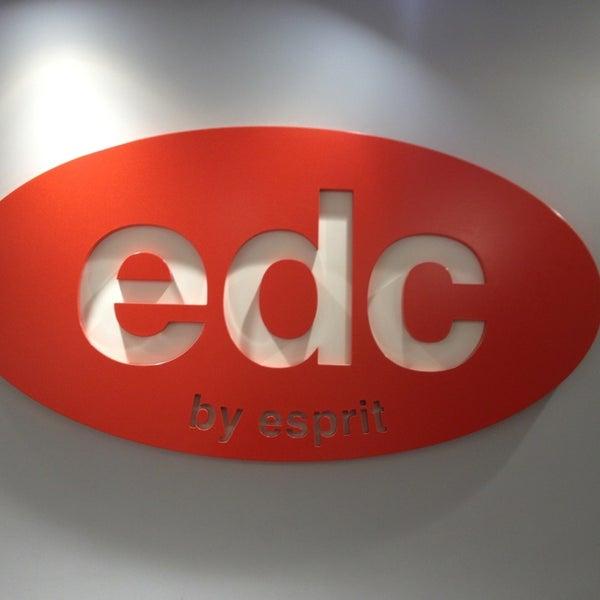 FIVE: close-fitting, low-waist, elastic fabric, micro-boot pants
PLAY: loose body, low waist, non-elastic fabric, wide trouser tube
SKIN: tight, low waist, elastic fabric, narrow trouser tube
EDC=EveryDayCarry, meaning Carry things with you, like mobile phones, keys, wallets, knives, flashlights, and even some people have binoculars.
EDC=employdisplayconsumer display user usage (interface)
Related Activities
2007 MTV European Music Awards EuropeMusicAward sponsored exclusively by edc and hosted by MTV Music Channel (EMA), is a large-scale Hong Kong viewing party held at the RED restaurant in Phase 2 (Rooftop) of the International Finance Center in Central on the evening, and the scene is star-studded. The party can be said to be a grand event in the city. The conference invited 500 famous top stars and celebrities from Asia and the city, including Daniel Wu, He Chaoyi, Fang Tian, ​​Li Cansen, Wei Lan, Wei Shi, supermodels AmandaS., Danielle, Le Jier and Chen Jiarong et al. The emcee lineup and performers are also strong, with the famous MTVS.E.A VJUtt and Hong Kong supermodel LisaS. acting as the emcee of the party. The conference is very honored to invite the famous American HipHop singer MoppDeep and Hong Kong famous singer Xu Zhian as performers. The guests devoted themselves to singing and dancing, bringing the atmosphere of the audience to a boiling point. It is a night party that combines music, fashion and sports. In addition to inviting MoppDeep and Xu Zhian as special performance guests, there are also skateboarding and HipHop plus Kung Fu martial arts (HipHopmartialarts) masters performing their skills. They all put on the latest trendy clothes provided by edc, combined with the difficult fancy skateboarding and kung fu moves, which amazed the audience. The climax of the party was the large-scale fashion music performance of edc fashion and music crossover. EDC, which fully supports this year's MTV European Music Awards Ceremony, held a fashion music show with Chen Zicong and the local popular group "Twenty Four Flavors" for an unprecedented time. With strong music accompaniment, the model displayed the latest autumn and winter series of edc with unique style on the flyover. The model matched the hot beat of the music, showing the style and coolness of the edc autumn and winter series. On-site guests enjoyed the edc to tide series under the night view of Victoria Harbour, while participating in a city-sized event under the strong music rhythm, celebrating a cool evening specially prepared for them by edc.
The World of Miracles
In order to allow more players to have close contact with "Miracle World" (SUN), and to add more fashion touch to the game brand, the Ninth City has joined hands for the first time EDC, which is the favorite among young people under Esprit, which is known as the "No. 1 Fashion Trend Brand in China", has jointly launched the "Miracle World" (SUN) precious internal beta activation code sending activity from February 1st. EDC is an Esprit derivative brand with an independent logo and its own target group. It advocates a life attitude of "care about mentality rather than age", which is also in line with the concept advocated by online games. The combination of these two brands is undoubtedly a surprise for fashionistas who like online games.
MAA Music Fashion
The collaboration between edc and MTVAsiaAwards Asia Music Awards (MAA) can do a lot. In addition to sponsoring this awards ceremony and providing staff clothing, Chung specially launched edc× MAA limited edition series. This limited series includes men's and women's vests, Tee, and hooded sports jackets, all decorated with guitars and other musical instruments, and embroidered with the "MAA2008" badge. For the first time, MAA added the edcStyleAward award at the music awards ceremony to commend the fashionistas in the music industry.